A paver pool deck is a wonderful addition to any backyard pool, serving an attractive décor element as well as a safe place for you and your family/friends to walk and relax when you're not in the water. If you would like to build the perfect pool deck for your pool, there are a few important considerations to keep in mind, with one of the most important being the type of material that you decide to use. In addition to choosing the right material for your pool deck, though, it is also important to keep in mind other factors such as the size and shape of the space you have available, the design that you want to create, the company that you choose to work with, and more.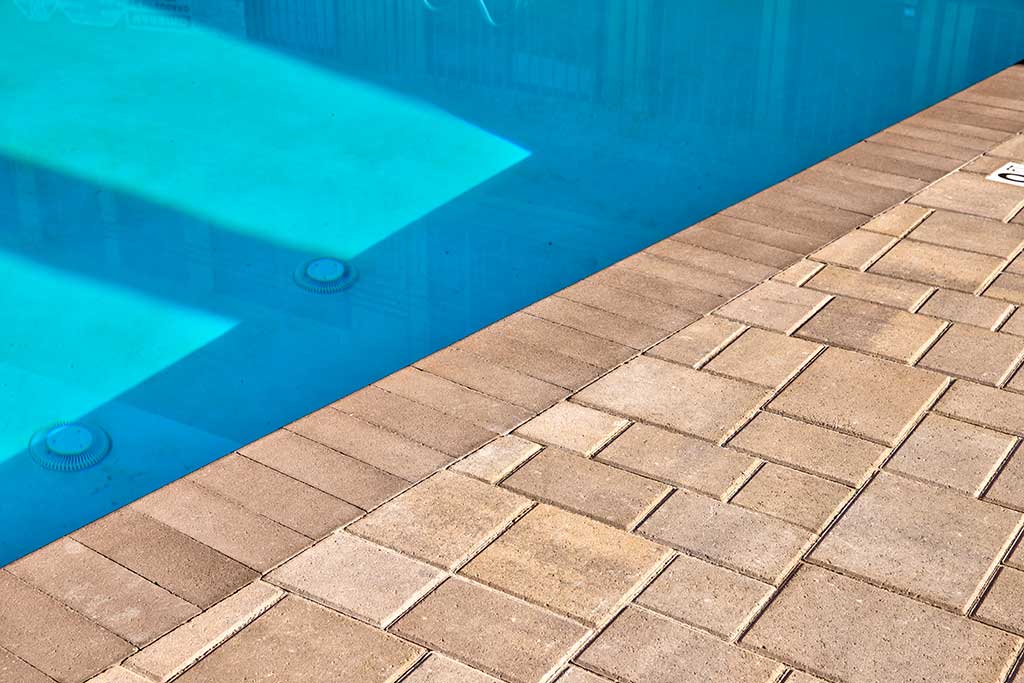 At Titan Pavers, we are experts at building attractive and durable paver pool decks that are designed to look great and last a lifetime. To help you get started on the process of designing and building your dream pool deck, we'll take a look at some of the most important factors to keep in mind. 
Choosing the Right Material
Pool decks can be constructed using a number of different materials, including wood, concrete, natural stone, brick, and tile.
Right from the start, some of these options are clearly better than others.
Wood and tile, while both undeniably attractive, are going to be much more difficult to maintain than other options, making them less than desirable materials for most pool owners.
Concrete, meanwhile, is affordable and easy to install/maintain but isn't the most aesthetically pleasing option and likewise isn't the most durable option either.
While each material offers its own advantages, concrete pool deck pavers are the clear winner when you consider all of the pros and cons for each option. Concrete pool deck pavers are incredibly durable, surprisingly affordable, and come available in a broad range of styles, sizes, shapes, colors, and surface textures. In other words, if you want to choose the material that affords you the most room for creativity while also choosing a material that is durable and easy to maintain, natural stone is the obvious choice.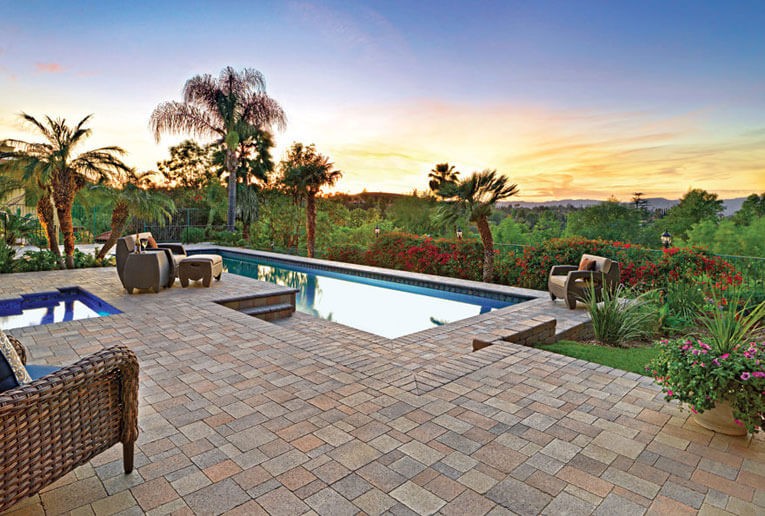 Designing the Perfect Pool Deck
Once you've chosen the material that you would like to use for your pool deck, the next step is to begin ironing out its design. As we mentioned, concrete pavers come in an incredibly wide variety of designs. In addition to choosing the size, shape, color, and surface finish of your pavers, you'll also be able to choose the pattern that they are installed in. This large degree of variety enables you to develop a pool deck design using pool deck pavers that is truly one of a kind.
Suffice it to say that the sky is the limit when it comes to creating a pool deck design that is to be built using pavers. At Titan Pavers, we are able to take your finished design and make it a reality or work alongside you to help you develop the ideal design for your space.
When to Build Your Pool Deck
It is generally agreed that a pool deck should only be built after the pool itself is fully installed. The reason for this is that your pool deck needs to be designed to fit your space, and it is difficult to picture what that space is going to look like before the pool itself is in place. Even if you know the exact measurements of your pool, it can still be hard to picture the size and shape of the space that you will be working with when it comes time to design your pool deck. After your pool is full installed, though, it's safe to begin the pool deck design process.
Choosing the Right Company to Install Your Pool Deck Pavers
When it comes to the various decisions that you will need to make regarding the construction of your pool deck, the company that you choose to hire for the job is the most important decision by far. Building a safe, attractive, and durable pool deck using pool deck pavers can be a complex project, and you will certainly want to ensure that you are working with a company that has experience with building high-quality pool decks.
At Titan Pavers, we have been building stunning pool decks for customers throughout Los Angeles and the surrounding area for years. Our talented designers and professional contractors know what it takes to develop a one-of-kind pool deck design and make that design a reality in the most efficient, affordable, and quality-oriented way possible. To learn more about our pool deck construction services or to receive a free quote on your project, be sure to contact us today!