A driveway is more than just a paved entrance to your home, so driveway ideas are something to truly consider. This one element can actually set the stage for the design tone and feel of the rest of your property. If you have opted for a concrete paver driveway, you may be on the search for some of the best ideas that can be created using these versatile materials. Let's take a closer look.
1. Vintage-Inspired Driveways for Softness and Flow
You may have never considered driveway ideas could give a property a sense of flow, but the implementation of the right paver stones laid in the right way can really give a new level of flowing flair to your property. Check out how these Belgard Old World stones in a Victorian color offer this antiquated aesthetic, but when laid in a circular runner bond pattern, there is this undeniable softness that oozes a sense of invitation.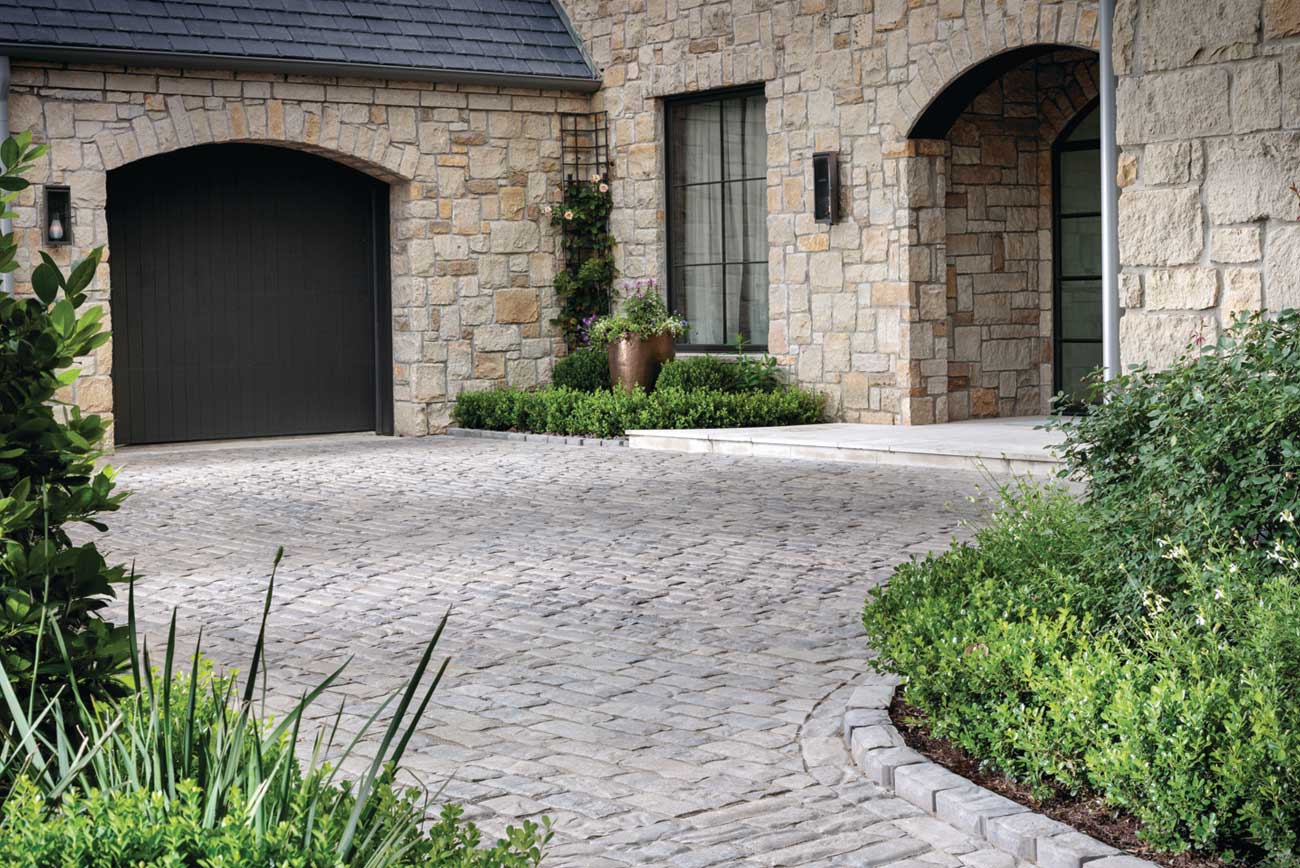 2. Modern Driveways with Natural Elements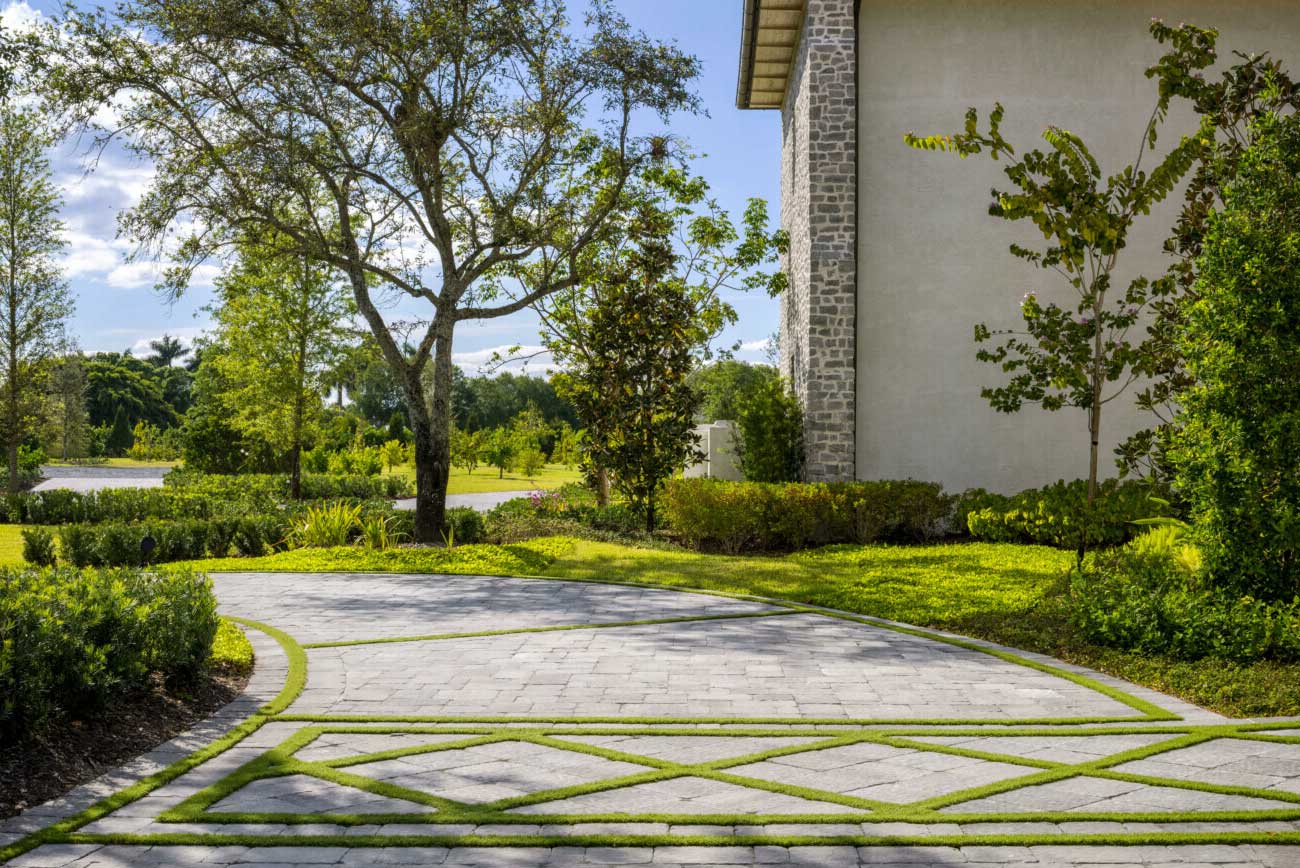 Want a bit of nature to frame your driveway? Perhaps you've always wanted to integrate some greenery but could never find just the right space. Consider integrating permanent planters along either side of the driveway so they can be filled with your favorite flora. The above example could really set off an otherwise basic driveway design but also add that natural flair to the property. You could even use integrated planting areas to add dimension to an otherwise flat and uncharacteristic lawn or landscape.
3. Transitional Driveways with Paver Stone Design Mixes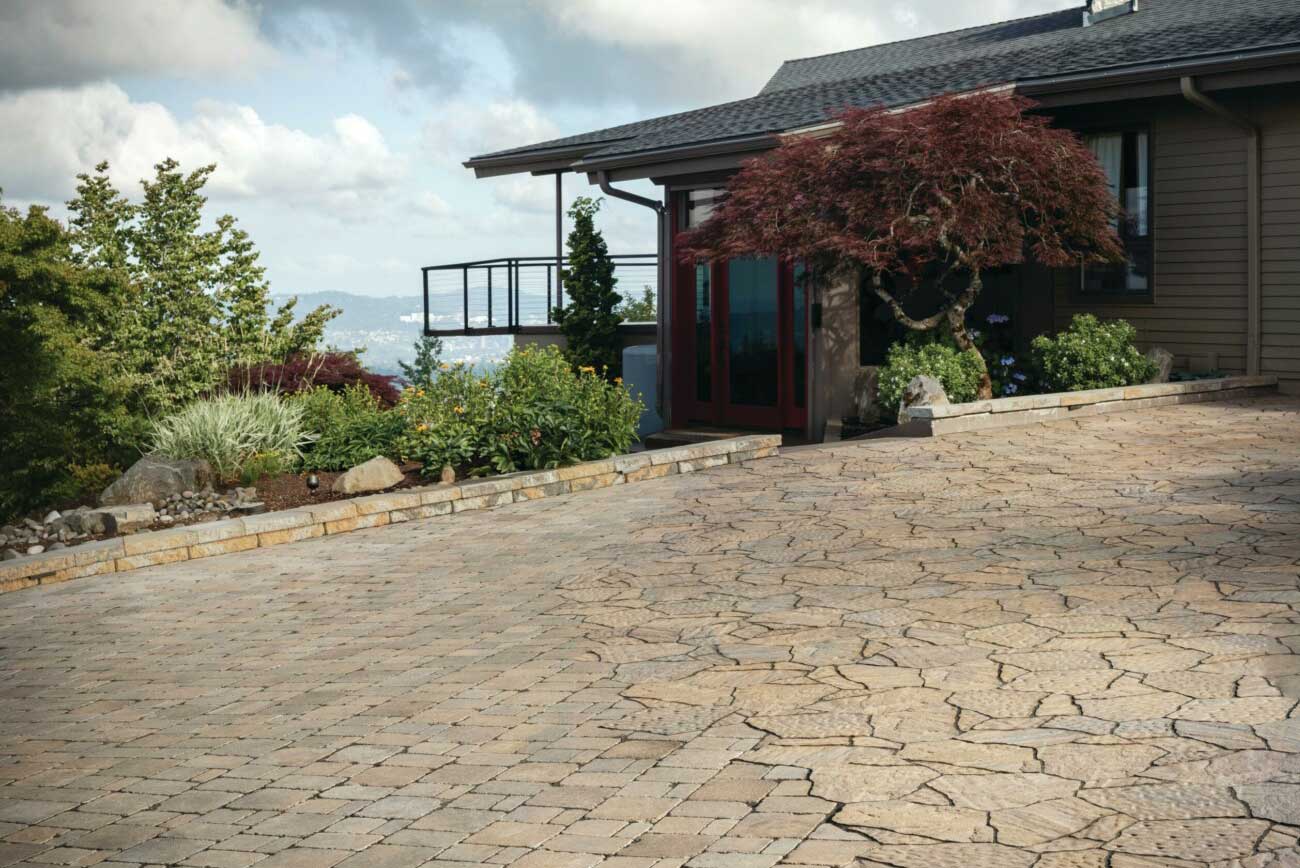 Transition the path to your home from traditional to natural just by combining two very different types of paver stones. Using a collaboration of paver stone types is one of those adventurous driveway ideas that can really set your property apart from the rest. The above look was created with a combination of Dublin Cobble and more natural, textured slate from Belgard. You can also offer variation by combining a primary stone in one style or layout with a border stone in a totally different design and laying pattern. For instance, Belgard Catalina Foundry stones have this sleek, distinguished appearance, but the addition of the ashlar random layout and perimeter border adds that element of interest to offset the simplistic.  
4. Driveway Ideas to Highlight Your Home's Exterior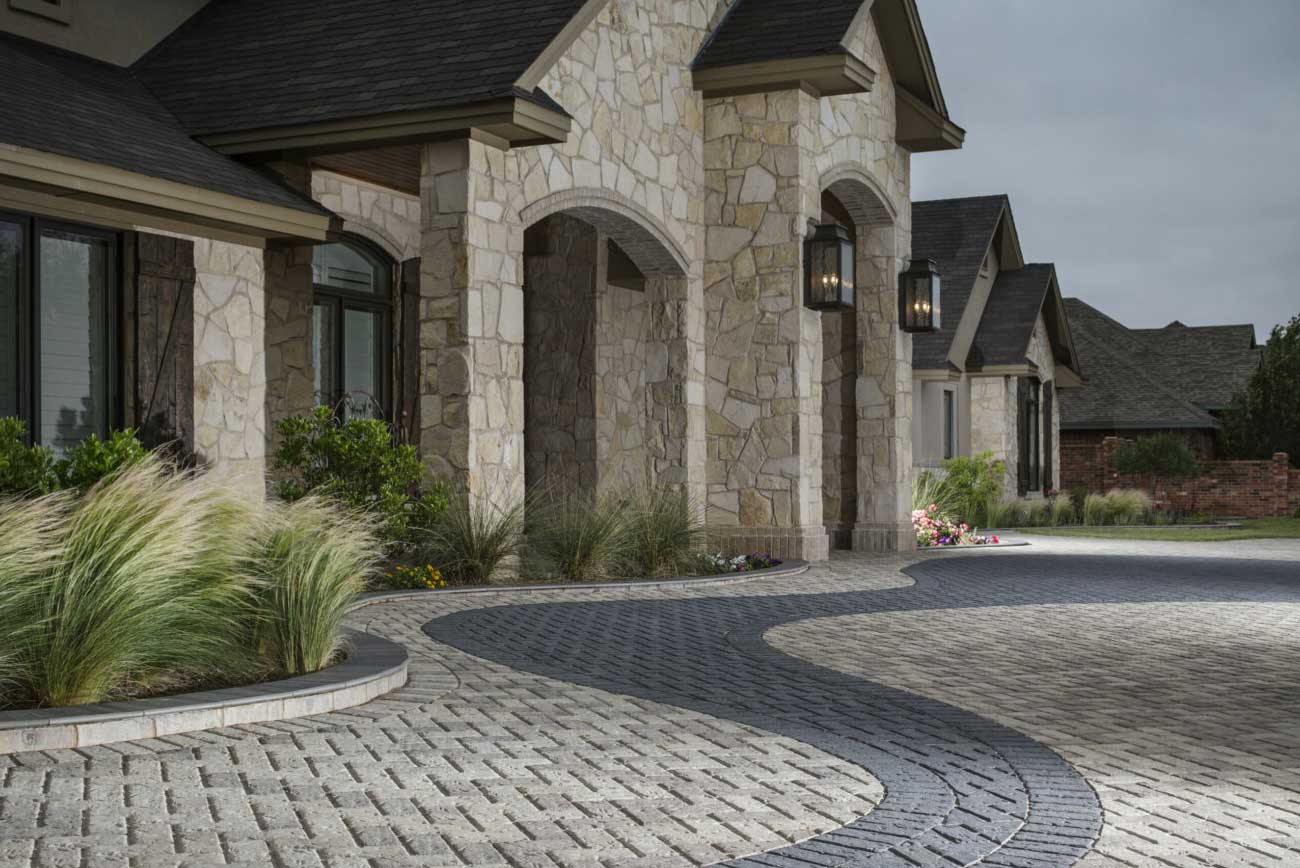 One of the best things to keep in mind when examining driveway ideas for your home is that the driveway can be an extension of the rest of your home's exterior when you pick the right materials. For example, what's a Mediterranean exterior without a driveway to finish the look? These gray-charcoal, tumbled cobble pavers definitely highlight the upscale personality of this home. Whether you have a simple cottage or a large-scale mansion, the driveway materials implemented can really finish off and somehow complete the overall atmosphere of your property.
5. Driveway Ideas for Reduced Maintenance
Got water in your driveway? That's not a problem that can't be solved with permeable pavers, such as this permeable Turfstone filled with artificial turf to allow drainage and keep maintenance easy. Permeable paver driveway ideas are especially noteworthy in areas where water runoff is at risk of causing erosion or flooding. Plus, you can go in so many different directions with a massive selection of paver stones and layouts to choose from.
6. Variated Driveway Ideas with Accents and Borders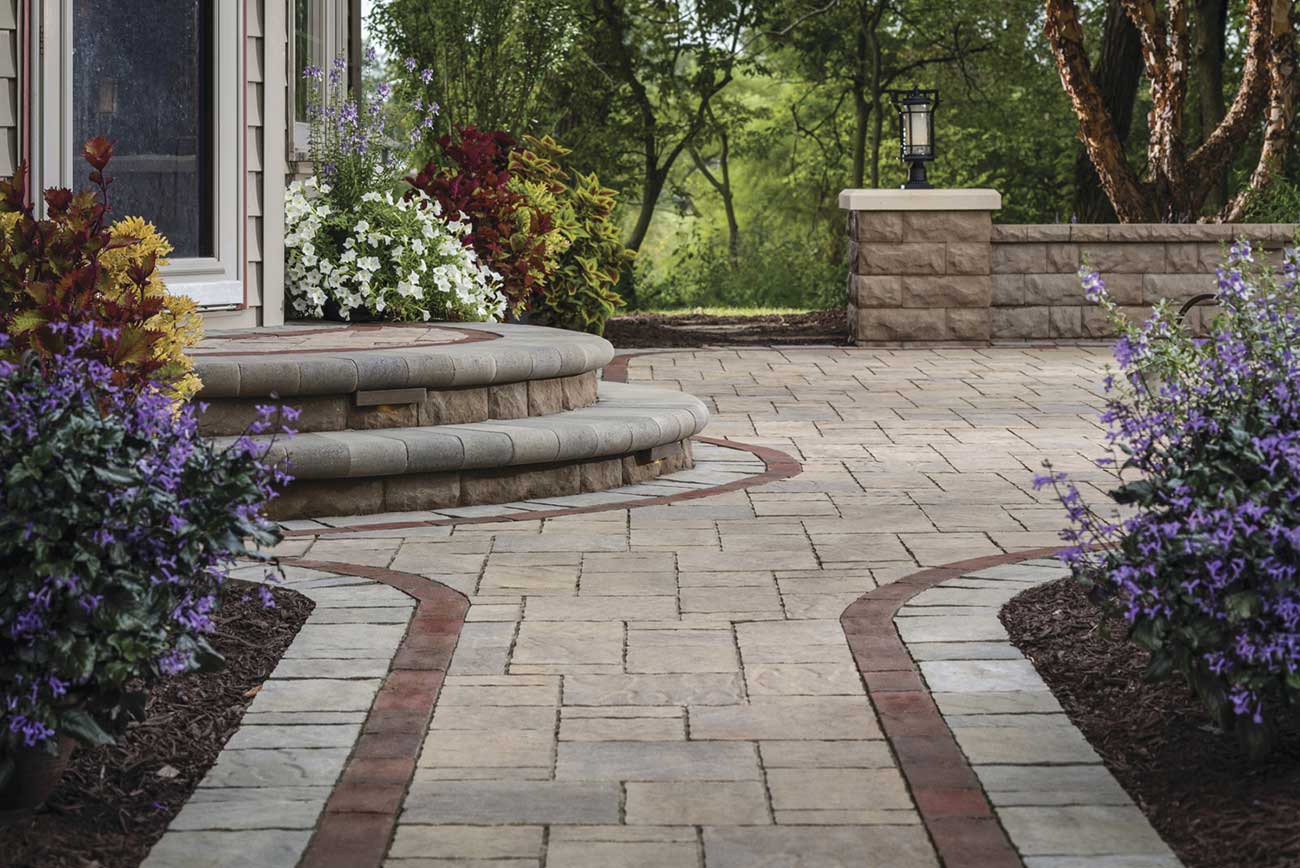 Bring a bit of added punch to your driveway with accenting border stones. This driveway is created with Angelus Courtyard paver stones in gray charcoal, laid in a random ashlar pattern, but the slightly darker charcoal border really sets the stage. 
7. Lengthy Driveways with Contemporary Personality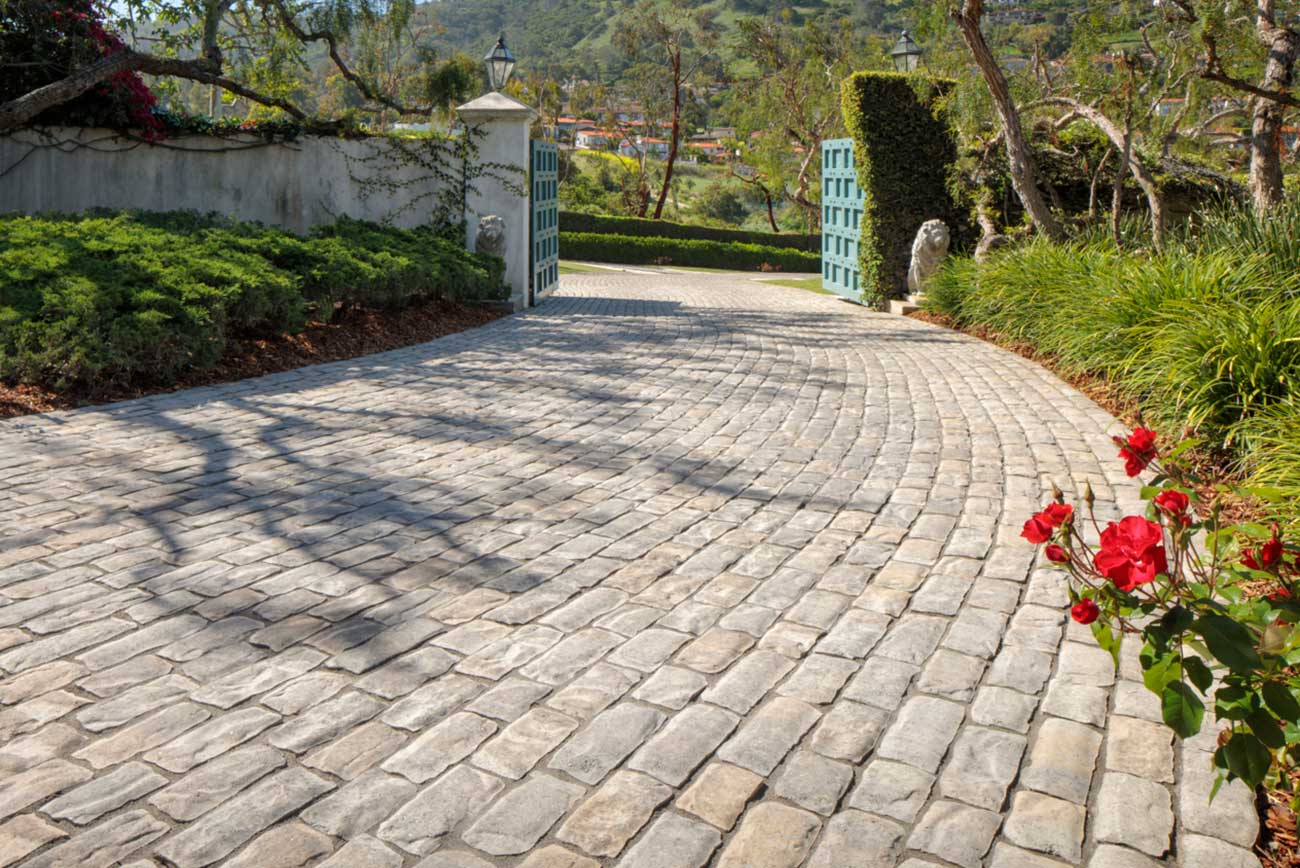 Got a driveway that is quite lengthy? It is easy for a long driveway to look a bit mundane if the pattern of the layout is not so so. To add some dimension and keep the lengthy driveway offering that upscale visual appeal, try opting for stones that have good color contrasts and possibly some geometric flair. Melville Plank pavers from Belgard can make that happen—just look at that geometric flair, and there's nothing boring about this drive even though it is a bit lengthier than most!