Paver Stone Design Ideas to Revolutionize Your Driveway in 2021 and Beyond
1. Integrate a Sense of Easy Flow
Belgard Old World stones in a Victorian color always offer this antiquated aesthetic, but when laid in a circular runner bond pattern, this look yields an undeniable softness as well.
2. Maximize and Beautify Driveway Parking Space
Imagine a driveway that takes you from the road to the porch to the garage—perfect way to ensure you always have enough parking space. This complementary layout of Antique Cobble I & II in both red-brown and charcoal is truly something to see.
3. Frame the Driveway with Natural Elements
Want a bit of nature to frame your driveway? Consider integrating permanent planters along either side of the driveway so they can be filled with your favorite flora.
4. Create a Grand Entrance
Angelus Estate Cobble I and II makes sure people recognize when they enter the path to your abode. Framed by a stately entry point as was done on this property, and your friends will believe they are visiting a luxury resort.
5. Roll Out the Invitational Pathway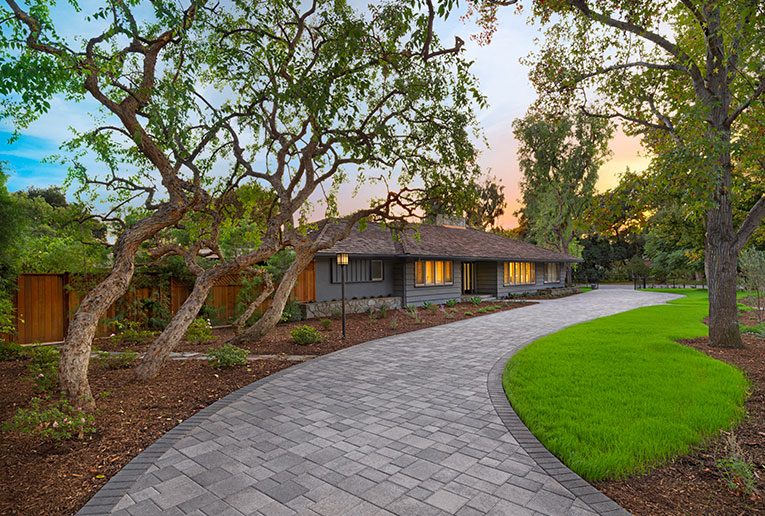 Driveways aren't always straight-lined and perfect, and that's perfectly OK. Check out those curvaceous entryway made with Courtyard paver stones from Angelus.
6. Create a Transitional Driveway Layout with Paver Stone Design Mixes
Transition the path to your home from traditional to natural just by combining two very different types of paver stones. This look was created with a combination of Dublin Cobble and more natural, textured slate from Belgard.
7. Distinguish Your Home's Driveway from the Rest
These Belgard Catalina Foundry stones have this sleek, distinguished appearance, but the addition of the ashlar random layout and perimeter border adds that element of interest to offset the simplistic.
8. Complement Your Home's Exterior with Perfectly Styled Stones
What's a Mediterranean exterior without a driveway to finish the look? We're certain these gray-charcoal, tumbled cobble pavers do the trick.
9. Create a Clear Dividing Point
The contrast of this slate gray Lafitt Grana slab in Leuders Gray from Belgard against the lush greenery is really an eye-catcher.
10. Reduce Driveway Maintenance and Manage Water Flow
Got water in your driveway? That's not a problem that can't be solved with those permeable Turfstone filled with artificial turf to allow drainage and keep maintenance easy.
11. Elevate the Entry Point from the Road
You can never go wrong with Holland paver stones, and this charcoal color is incredible. But how about that angled transitional edging to carefully ease the transition from the road?
12. Implement Border Stone to Complement the Color Scheme of the Main Surface
Bring a bit of added punch to your driveway with accenting border stones. This driveway is created with Angelus Courtyard paver stones in gray charcoal, laid in a random ashlar pattern, but the slightly darker charcoal border really sets the stage.
13. Trees and Paver Stones Can Co-Exist in Harmony in Your Driveway
All gray-white, rounded, and soft, this driveway stretches from the garage to the front porch, and even envelops a planted tree. These cobble-style concrete pavers always deliver unrelenting personality.
14. Integrate Contemporary Personality with Driveway Pavers
Looking to add some architectural dimension to your driveway? Melville Plank pavers from Belgard can make that happen—just look at that geometric flair!
15. Give Your Driveway Natural Flair
Catalina Slate offers this naturalistic texture that pairs oh-so-well with certain landscapes. You'd barely ever guess that this paved driveway was never supposed to be in place.