When repaving a driveway, you have a few basic options to choose from: natural stone pavers, asphalt, brick, poured concrete, and concrete pavers. To help you decide which one is best for your home, we'll look at how the price, durability, and style preference will affect your decision. You can also request a free estimate from Titan Pavers today.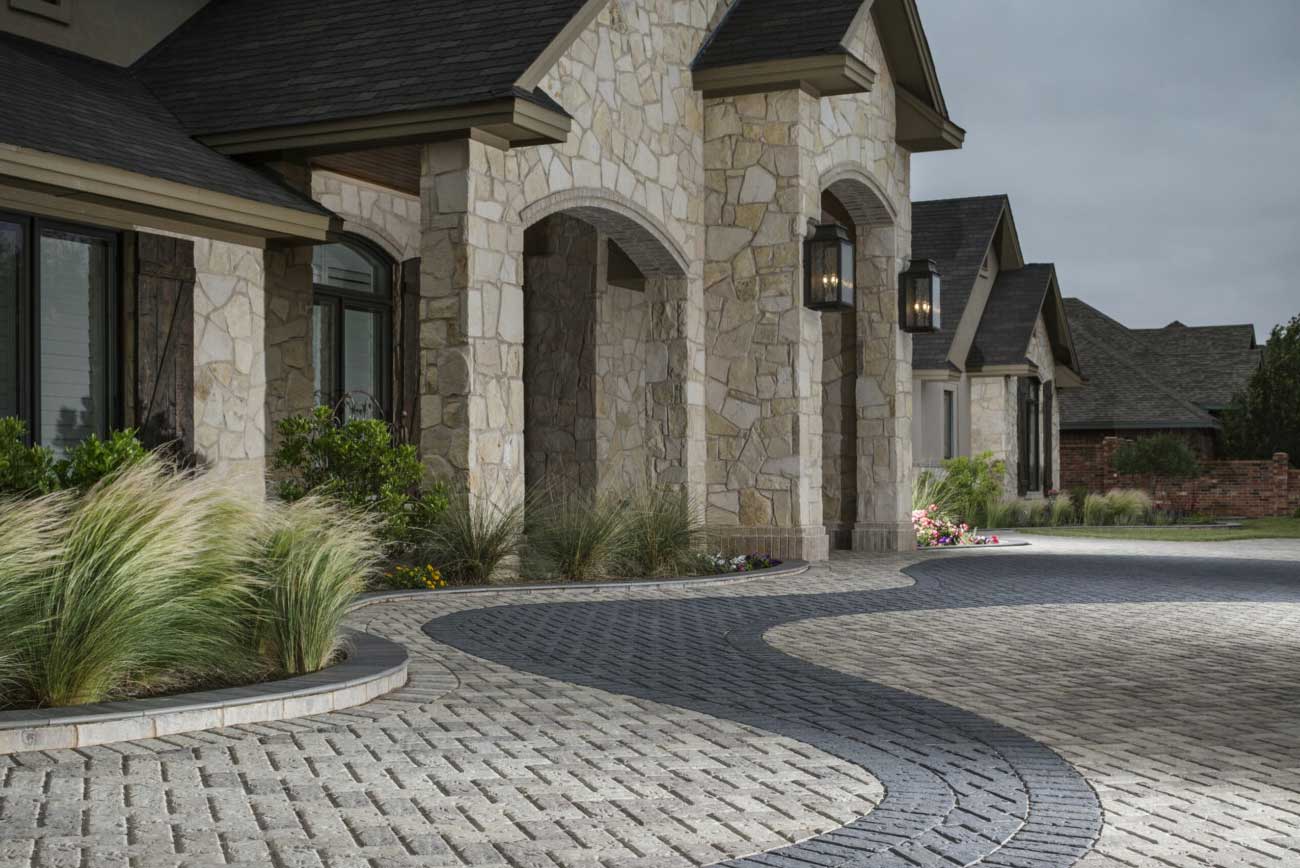 Before You Decide
It's not just your budget you need to keep in mind before you pave your driveway. Here are a few other factors that need to be accounted for:
Durability: Whether you're planning to sell the property soon or not, the quality of the material you choose will play a big role in how much value you derive from the repaving.
Style: Poured concrete may pair well with a modern home but clash if the property is more traditional. You have to keep in mind how the aesthetic of the driveway will complement the house.
Goals: Are you hoping your driveway will be able to handle excess traffic? Do you want to set up a basketball hoop out there? Certain materials will perform better than others, it just depends on what you're planning to use it for.
Asphalt Driveways
Asphalt is the cheapest material available from your driveway at about $4 per sq. ft, which makes it a popular choice. Of course, there's more to it than price.
Asphalt will crack no matter what, but the idea is that the cracks won't be as long or large as those of a concrete slab. When it's brand new, it's ready to be driven on immediately, as opposed to concrete (which will take about a week to set).
On the other hand, asphalt can look unfinished if you don't install a border treatment. It also only lasts 20 years, whereas concrete can last for up to 40.
| Pros | Cons |
| --- | --- |
| Pros | Cons |
| Budget-friendly | Limited styles |
| Less prone to significant cracks | Prone to overheating |
| Fast installation | May cause tree damage |
| Relatively easy to resurface | Needs resealing |
Poured Concrete
Costing an average of $7.50 per square foot, concrete is more expensive than asphalt but less expensive than other materials. Thanks to both its cost and its low maintenance though, it's the most common material used for driveways.
However, while concrete can last longer than asphalt, it may not last as long as brick or concrete pavers. Plus, it's prone to staining and cracking leads, which can lead people to question whether it's really as durable as it initially seems.
| Pros | Cons |
| --- | --- |
| Easy to install and resurface | Prone to staining/cracking |
| Budget-friendly | |
Brick Driveways
Brick driveways can be truly beautiful, but they are also expensive and they don't always last. On average, it costs around $30 per square foot, making brick by far the most expensive building material on our list.
Given that concrete paving stones can be made to look like brick while also being a much more affordable and durable material, a driveway with concrete pavers is typically a better choice than an actual brick driveway in most situations. 
| Pros | Cons |
| --- | --- |
| Attractive | Expensive |
| Fire resistant | Mortar can wear out over time |
| Good for the environment | |
| Retains its color | |
Concrete Paver Driveways
Concrete pavers offer a number of considerable advantages. They are not only affordable at $8.50 per square foot, they also come in a wide range of styles, patterns, sizes, and surface finishes. All these options give you plenty of room for creativity as well as a chance to match the driveway to the current style of the house. 
Concrete pavers are among the most durable building materials available as well, making them ideal for a driveway that must stand up to being driven over multiple times a day. Finally, concrete pavers translate to a permeable driveway that enables water to flow through the ground and into the soil beneath it. So while you may not get a lot of rainfall in your area, you can harness it with concrete pavers. 
| Pros | Cons |
| --- | --- |
| Durable | More expensive than asphalt/concrete |
| Easy to install/repair | |
| Come in a wide range of styles | |
| Retains its color | |
Let the Installation Experts at Titan Pavers Help You
If you are looking for the best concrete pavers installation contractor in Los Angeles to help bring your vision for your new driveway to life, the experts at Titan Pavers look forward to taking your call!