When you are choosing between different patio materials, you have to keep in mind the full scope of the installation. While certain materials cost less initially, they can end up costing more (both in terms of time and money) to maintain.
What Should I Know Before Installing the Best Pavers for Patio?
Before you're thrust into a world of samples, you should think about what you plan to use your patio for and how it will look with the rest of the home. Brick pavers (or concrete pavers made to look like brick) can add a touch of class to a Victorian or Tudor style home, while a starker concrete will mesh better with a more modern home.
You also have to keep in mind how complex the job will be. Anything from your soil composition to the stability of the home can have an impact on the cost of labor and installation, which will in turn make the project more expensive. Pavers that require a lot of maintenance can also elicit annoyance from not just you, but also the next owners.
Which is Better: Concrete Patio or Paver Patio?
Paver patios offer a number of advantages over a concrete patio. Pavers are more durable than concrete and less likely to crack or break over time. Paver patios are also arguably more aesthetically appealing than concrete patios and enable you to choose from a wide range of surface finishes and designs.
Concrete pavers also offer permeability, which means less run-off during the rainy season and more nourishment for your lawn and flowers. At Titan Pavers, our permeable paving stones help the environment without endangering your patio to cracking or staining.
Best Pavers for Patio
If you're looking for the best pavers for patio, you need to look for materials that will stand up to everything from foot traffic to furniture scraping. Titan Pavers is known for having an extensive collection of styles and colors, including:
Angelus Antique Cobble I & II
Angelus Courtyard
Angelus Holland
Angelus Aqualina
Angelus Estate Cobble
Angelus Heartland
Belgard Old World
Belgard Avalon Slate
Belgard Catalina Grana 
Belgard Catalina Slate
Belgard Melville Plank 
These pavers aren't just beautiful (and known for boosting your resale value), they're also known for holding up under duress. We'll look at what to consider before choosing pavers and how you can design your patio so it lasts for many years to come.
Top Paver Patio Patterns
Stack Bond -The stack bond pattern puts the pavers in perfectly aligned rows to create a uniform appearance. Contractors typically use square stones ranging from 6- to 24-inches in size, but it's also possible to use rectangular ones instead.
Basket Weave – The basket weave features sets of two rectangular paving stones alternating from horizontal to vertical alignment. This pattern only works when using stones that are half as wide as they are long, like 6-inch by 12-inch pavers.
Ashlar Stack – The ashlar stack pattern starts with two rectangular stones set above two square ones. Then, they are arranged in different directions to create an interesting design that guides the eye around the surface.
Runner Bond – The runner bond pattern mimics the subway tile look with the linear arrangement of square and rectangle pavers. By staggering each row, this design boasts tons of movement that makes the space look alive.
Herringbone – The classic herringbone pattern features rectangular pavers arranged in a way that creates rows of triangles across the surface. This design often looks best when using multiple stone colors to create even more visual interest.
I-Pattern – The goal of the I-pattern is to create as many intersections or lines as possible. This pattern is beautiful and looks sophisticated!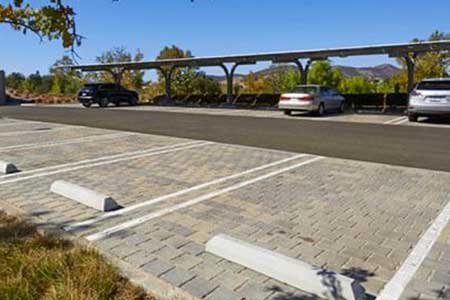 Paver Styles for a Patio
When using patio paving stones, you'll want to select the style that best complements your home and yard.
Some of the most popular styles used today include:
Contemporary
This style tends to have a nice smooth surface and a clean-lined look. Lafitt Grana Slab and Catalina Grana are a few good examples from Belgard. These smooth, patio pavers have this crisp, contemporary appearance that works really well for high-traffic areas. Therefore, the pavers are ideal for patio paving.
Clean surface is easy to maintain
Excellent for high foot-traffic areas like patios
Easy to find in a range of color options
Natural
Natural style patio pavers most often offer this gorgeous textured finish that is highly resemblant to a stone you would find in nature. While the shapes of the paver patio stones can vary, these stones emit this back-to-basic style that works well for more traditional styles. Castle Cobble I and II from Angelus Paving Stones and Catalina Slate from Belgard are awesome examples of natural patio pavers.
Awesome choice for a more natural backyard environment
Pairs well with more contemporary accent borders or pieces
Works just as well for footpaths as patios
Rustic
Rustic style patio pavers can have varied appearances and textures depending on the specific style. However, these stones almost always offer a more "worn" or rustic appearance. Lafitt Rustic Slab from Belgard and Angelus Royal Cobble I and II are excellent examples of some high-end rustic paver patio stones. Royal Cobble actually has this tumbled appearance with contoured edges that exudes this Old-World style.
Exudes an Old-World or antique style
Great for outdoor kitchen areas
Available in a range of styles
Traditional
Traditional style patio pavers make their way into paver patio design patterns quite frequently simply because their appeal never goes out of style. Traditional paver patio stones are easy to point out because they typically boast these beveled edges that give a trademark finish. For example, Symetry pavers for patios and driveways have this nice tufted edge. Likewise, Holland Stone has a nice bevel with a clean-cut line.
Flexible style works well with most exteriors
Impressive selection of colors available
Great for high-traffic areas
Environmental
Environmental pavers, which are also frequently referred to as permeable patio pavers, are specifically created to allow water to slip through. These stones for a paver patio are installed without solid mortar filling the joints. For patios in areas that receive a lot of rainfall, have issues with groundwater contamination, or otherwise, permeable patio pavers installation can be the best decision. Urbana Stone Pavers from Belgard are a top choice for patios that need a bit of water control. However, Permeable Holland paver patio stones from Angelus are a nice low-profile option as well.
Excellent for high-water areas
Can help negate the need for a storm drain
Good for patio/pool combination areas
How much does a paver patio add to home value?
According to the 2014 Residential Landscape Architecture Trends Survey, 98% of homeowners and buyers said that a patio was a desirable feature for a home to have. While it is difficult to say just how much installing a paver patio outside your home will increase the home's value, the desirability of paver patios alone is enough to ensure an ample return on your investment should you ever decide to sell your home.