A beautiful and durable driveway is an asset. It enhances the overall appearance of your home. When you decide to put your property on the market, a driveway pavers can be a selling point, along with other architectural and design details. And if you're repaving your driveway, there are numerous possibilities to choose from. Among them are paver stones, which create an aesthetic hardscape at the front or entry path of your home.
What exactly are pavers?
Pavers, also known as paving stones, are flat concrete, stone or brick surfaces installed to create flat, sturdy surfaces. As a hardscaping or landscaping option, driveway pavers offer much design flexibility: you can install pavers in multiple colors, sizes and shapes to achieve a unique look.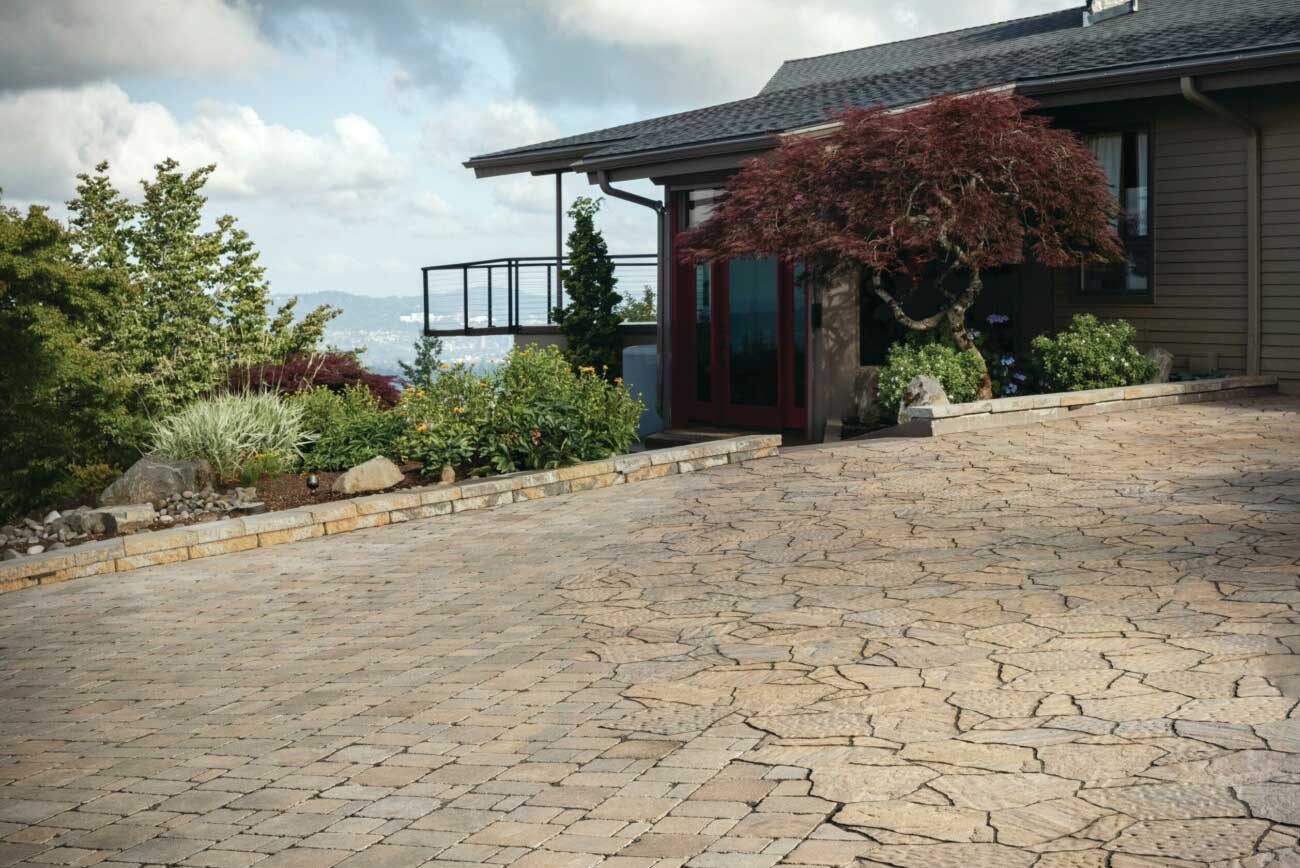 Things to consider when selecting driveway pavers
The driveway should align well with the area's natural topography. If you want a curved, meandering driveway, its width will need to be increased in response to the sharp curves. The underlying soil, pavement thickness and drainage are other considerations.
Still struggling to pick the best pavers for your driveway? Here's what to consider to help you through the decision process:
Material Options – Concrete, travertine, porcelain—you have a lot of options. Concrete is popular for durability, ease-of-installation, and price. Travertine and porcelain offer excellent personality with a natural flair, but at a higher price point. 
Is Drainage Important? – If you need to control water and drainage, permeable driveway pavers may be the way to go. 
Consider Cost-Effectiveness – Pin down your budget so you know what directions to go—paver stone options are available to suit every budget. 
Think About Maintenance – Some pavers require regular sealing and can be harder to clean, while others are all about easy maintenance. 
What About Longevity? – Durability is always a concern, so consider which stones or paver options will give you the longest-term solutions.
Should you opt for brick, concrete or stone driveway pavers?
Stone driveway pavers offer a natural beauty that is hard to replicate. That being said, natural stone is ill-suited to a high-traffic area such as a driveway. Long freeze/thaw cycles and sustained mechanical pressure can cause cracks or breaks in stone pavers. For this reason, they are used for areas such as the patio or pool deck, which are not as mechanically stressed as driveways.
Brick pavers offer greater durability than stone. However, they may fade or become discolored from exposure to the sun. Sealers are often used to minimize fading.
Concrete is a popular choice for driveway pavers installation. Its exceptional durability (can last 30 or more years) and impressive resistance to freeze/thaw cycles make it a top choice for driveways and pavement systems that are required to withstand heavy pressure. Interlocking concrete pavers are an environmentally-friendly choice, preventing the damages often caused by rainwater and snow melt, as well as preventing their run-off, which can pollute local waterways and adversely affect wildlife.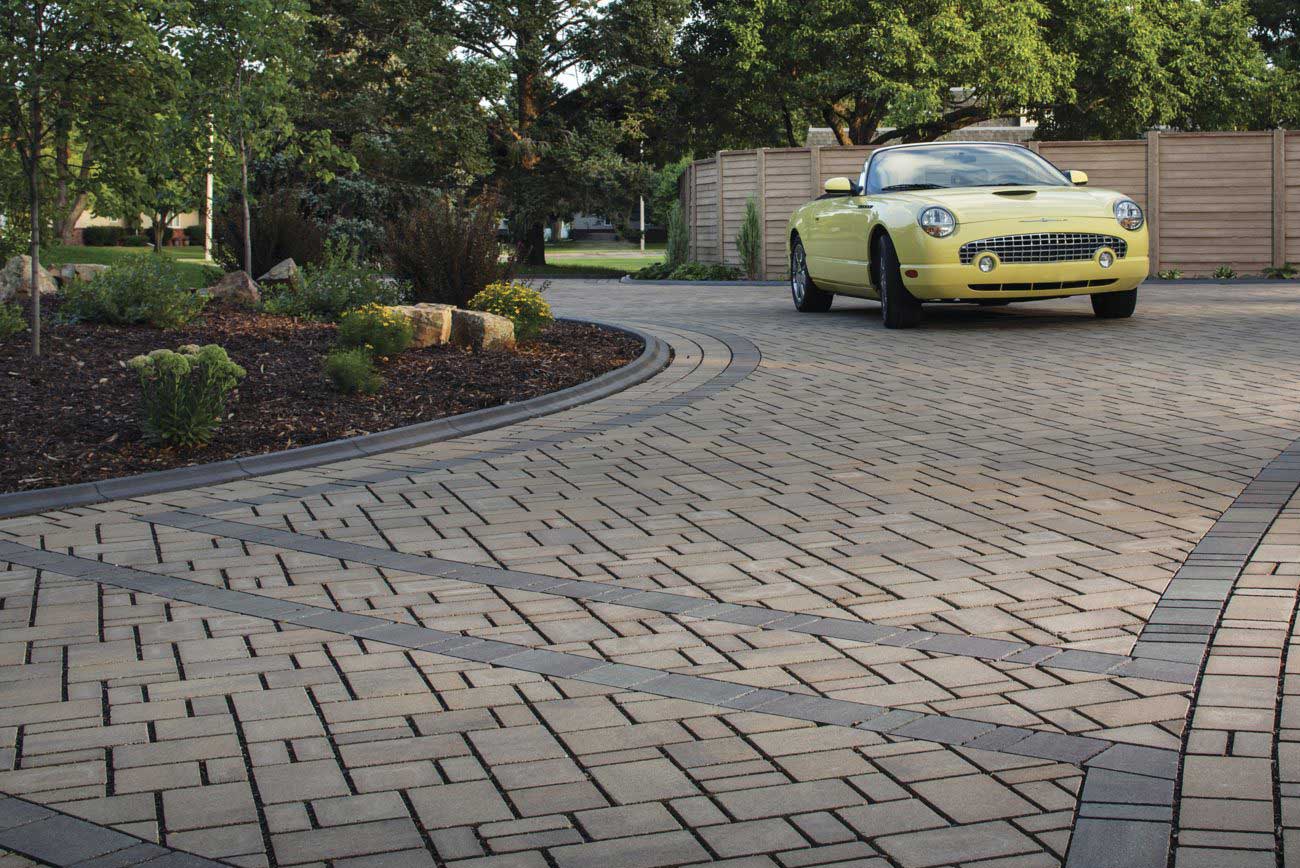 What are some paver styles?
Depending on your style preferences and budget, you can choose from numerous paver styles. If you want a worn-out/distressed look, you can opt for tumbled paving stones that go through a machine process to chip away the edges. Non-tumbled paving stones have smooth, beveled edges that impart a refined and brand new look. Square, rectangular and three-piece tumbled or non-tumbled shapes are common, although homeowners may pick different shapes for different areas of their home. You can create hardscapes that look unique from one another, or consult with your designer to pick paving stones that blend spaces together and achieve a unified look.