Curb appeal matters. According to the National Realtor Association, a home without appeal will sell for 7% less and take 14% longer to sell. It's important for how you feel about your home and directly impacts its value. You want people to notice and appreciate your exterior. And if you want to sell in 10, 15, 20 years, you want potential homebuyers to love it just as much. When it comes to curb appeal, absolutely nothing beats a beautiful driveway, so we have some driveway design ideas, you'll want to consider.
Celebrate the Cobblestone Look with Old World Belgard Pavers
Do you long for lazy days spent strolling through Volterra, Italy; Seville, Spain; or London, England? There's a quaint charm to cobblestone. And yes, you should absolutely consider it when exploring driveway design ideas.
Belgard's Old World Pavers have a classic timeworn appearance. They look like and feel like they're hand-made, although we have ways to make cobblestone more efficiently and cost-effectively now. Interlocking stones hold up to have high traffic — vehicle, foot, and tricycle.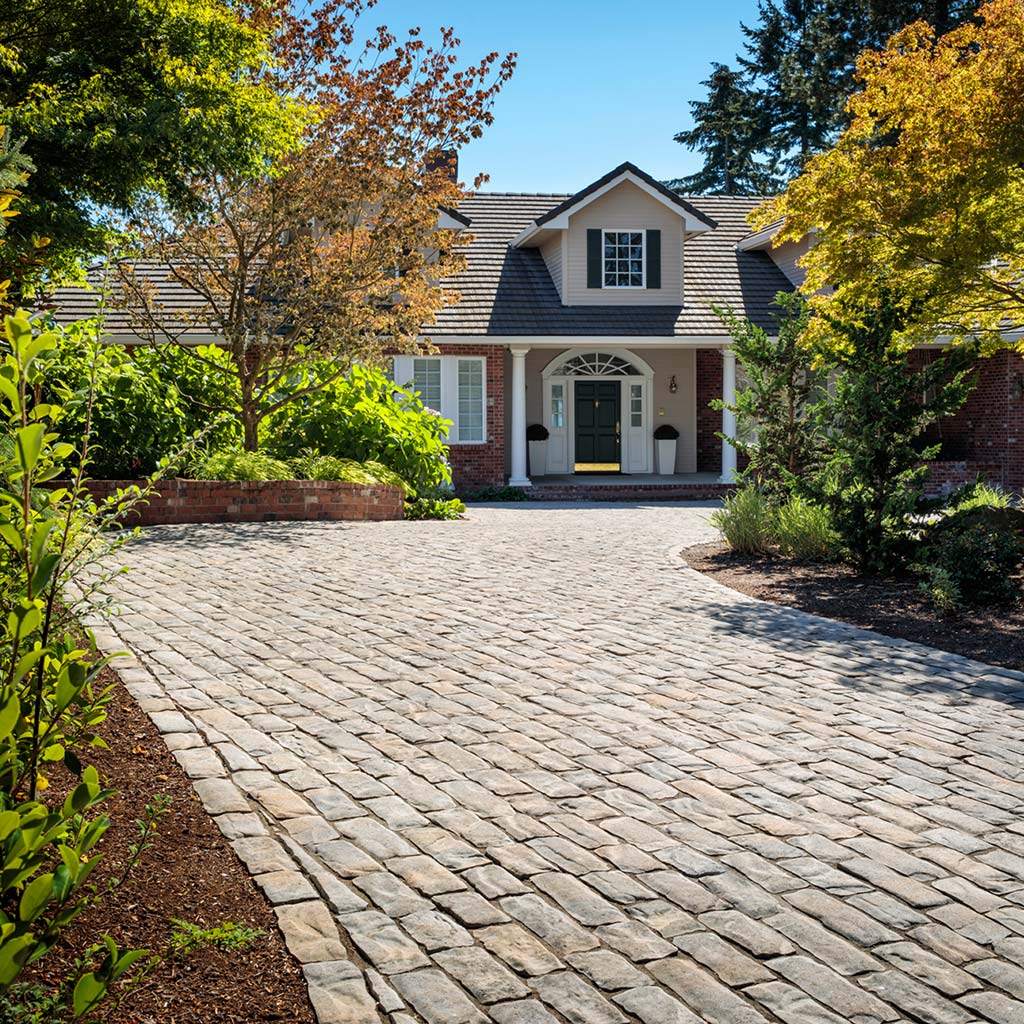 Go Environmental with Belgard Permeable Pavers
All pavers are better than asphalt for the environment. But permeable pavers in particular take your contribution to the next level. You can feel good about these pavers. When solid surfaces force rainwater to stream, they cause unsightly soil erosion and collect all kinds of pollution before entering the groundwater and rivers. When they can go straight through the ground, that's mostly fresh water refilling underground resavoirs and nurturing the planet.
These pavers are designed to minimize harmful runoff and water accumulation by allowing rainwater to travel effortlessly through the pavers to the ground and then groundwater beneath.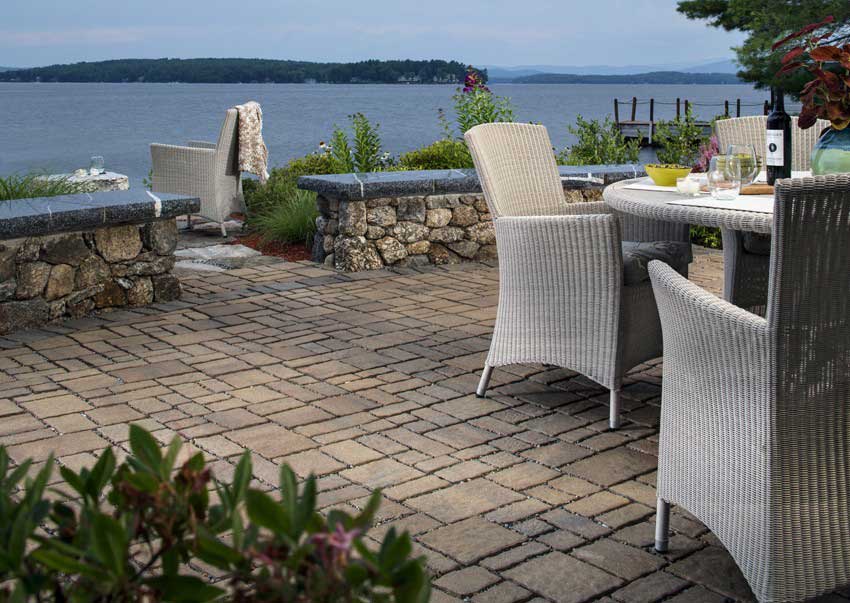 Get Whimsical with Pavers with Grass in Between
Here's another eco-friendly driveway design idea. Consider Turfstone Pavers from Belgard. These allow the as much of the ground as possible to stay in contact with the sky above. You can grow grass or even flowers between them.
Like something out of a children's storybook, these allow for whimsical green and brick alternating patterns that any artist — or child — at heart will appreciate.

Live the Luxurious Life with Mega Bergerac Paver from Belgard
Driveway design ideas don't get better than this if you want your driveway to look like a million bucks without costing anywhere near that. The Mega Bergerac pavers are reminiscent of the days of the horsedrawn carriage. You can get large ones or three smaller sizes to create a flowing pattern. No matter how much horsepower your modern vehicle has, these pavers provide functional beauty that lasts.
Live Elegantly with Porcelain Pavers from Belgard
Porcelain may sound delicate, but each stone can independently hold up to 2000 pounds, enough to support passenger vehicle traffic. They're frost-resistant, skid-resistant, and easy to clean.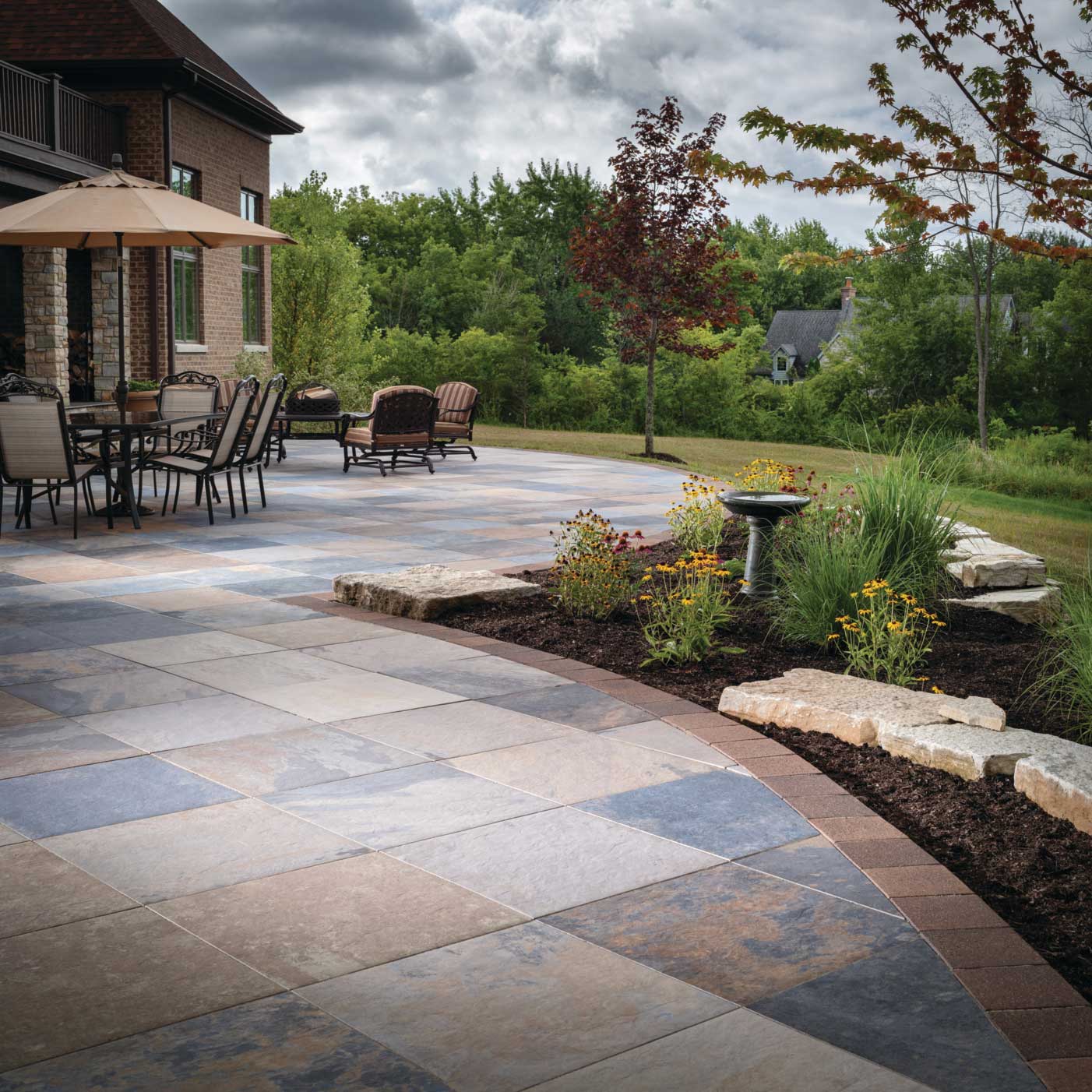 Does talking about driveway design idea sound like your perfect afternoon? We love talking driveway ideas too, and can help you choose a lasting beauty you'll appreciate for years. Come see us to talk pavers and check out our reviews on Yelp.